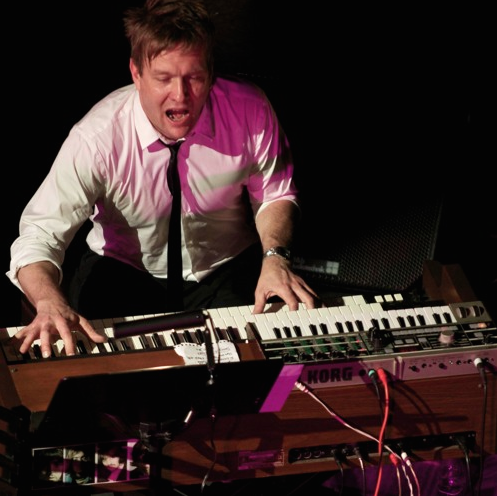 Ben Stivers is a Brooklyn based piano, organ, and synthesizer player. Born in Indiana, he grew up in Las Vegas. His family moved when he was four years old so his parents could pursue musical careers and raise a family. After childhood as a serious classical musician, he moved to Miami. There he received a degree in Studio Music and Jazz Performance from the University of Miami.
Professionally, he's worked with such a wide variety of artists, they look strange together on one page.
His career started in the studio in Miami. He played on recordings for Exposé, Jose Feliciano, Prince Rahiem, and the Bee Gees, among others. Through his work in the Miami studio scene, and on the recommendation of his friend and classmate, John Merchant, Ben had the good fortune of meeting Barry Gibb and his brothers in the early 90s.

At the time, the Gibbs were working on a re-mix of "You Should Be Dancing." In the coming years, he worked extensively in their studio, making demos of the songs they were writing. He had the honor of recording with The Bee Gees on "One Night Only" and "This Is Where I Came In." Even more, numerous concerts, TV appearances, and awards presentations. For example, VH1 Storytellers and their induction to the Rock And Roll Hall Of Fame.
Touring/live engagements have included:
Matchbox Twenty, Ricky Martin, Chayanne, The Bee Gees, Barry Gibb, Laura Brannigan, Thalia, Gloria Estefan, David Garrett, Patti Austin, The Gregg Allman Band, Albert Lee, Groove Collective, DJ Logic, Cindy Blackmon, and Sam Moore.
Jazz recordings include:
Beat Kaestli, Kenny Rampton, Alexis Cole, Bruce Saunders and Rez Abbasi.

He has written songs with Beat Kaestli, Barry Gibb, and Robin Mckelle, and arranged music for Ricky Martin and Alexis Cole.

Recent projects include Scott Sharrard and the Brickyard Band, Robin Mckelle and the Flytones, and James Maddock. He also has two of his own projects: The Ben Stivers Organ Trio and TripleCrown.
Join our mailing list!