Chipotle's "A Love Story"
CLIENT: Passion Pictures and Chipotle
OPPORTUNITY
In the early development of Chipotle's "A Love Story," Passion Pictures hired Flavorlab. They asked the team to construct several different creative music directions to drive the brand's aesthetic. At the story-boarding phase, our music supervisors and engineers compiled existing tracks and cutting them into the initial animatic. Our consultation provided the director with a musical blueprint for the emotional arc of the story. The initial instrumentation of the full track evolved into the production of "I Want It That Way". The song was performed by Brittany Howard of Alabama Shakes and Jim James of My Morning Jacket.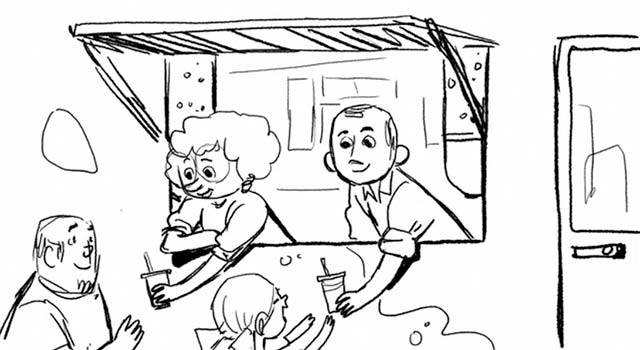 BACKGROUND STRATEGY
The "love story" follows two children running juice stands. Looking for a competitive advantage in the neighborhood juice game, they become rivals. They grow older, growing their businesses bigger and bigger. They add menu items, make building upgrades, and put out increasingly flashy advertising. In adulthood, our protagonists find themselves lost in their own inventions. Their factories are huge and chaotic. Both are overwhelmed by how out of hand their competition got. They both walk into the street and see each other. Holding hands, they walk into the sunset. Next, we see they've opened their own roadside stand.

The team needed to target several emotions throughout the story. They began the process pulling existing music for reference. We pulled tracks by popular composers such as Alexandre Desplat, Michael Giacchino, and Jon Brion. These options were cut and edited together by our engineers to create a range of musical palettes. From here, the director picked final references. The company went on to commission "I Want It That Way" for the spot.
RESULTS
The video garnered millions of views on Youtube and became a favorite amongst fans of the brand.
Join our mailing list!