Opportunity
In early development, Passion Pictures hired Flavorlab for Chipotle's animated short, A Love Story. Assigned with driving the brand's aesthetic, the team had to construct several different creative music directions. The story focuses on Chipotle's commitment to fresh ingredients. Following rival juice stands, our leading characters grow from children to adults. As they come of age, their modest road side stalls turn into massive fast food empires. Focused on one-upping one another, they each get further away from what drove them to start their businesses in the first place: the food. After stumbling through their own high tech factories and neon-plastered billboards, they leave big business behind. Hand in hand, they walk into the next screen serving fresh food and juice from a food cart.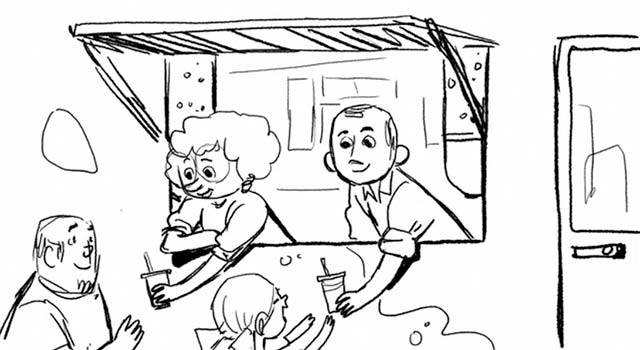 Process
Our music supervisors and sound engineers collaborated at the story-boarding phase. They selected existing tracks by popular soundtrack composers that could target several emotional touch points. After compiling an assortment of sounds and emotions, our sound engineers cut the tracks to the animatic. The edits provided a wider range of emotional palettes to present the director.

After cuts were made, our team consulted with production. The temp score options provided a musical blueprint for the emotional arc and instrumentation needed in the end product. Those guidelines led to production of a custom track for the film. From here, the brand decided on who would lend their voice to the project.
Results
Flavorlab's consultation led to the production of a custom track for the film. Bringing in two indie rock powerhouses, I Want It That Way is performed by Brittany Howard of the Alabama Shakes and Jim James of My Morning Jacket. The video garnered nearly a million views on YouTube, becoming a crowd favorite among fans of the brand.
Join our mailing list!