Meet The Couple Inspiring Others To Conquer Their Most Audacious Dreams
Joan Baker and Rudy Gaskins are co-founders of the Society of Voice Arts & Sciences (SOVAS), and creators / co-hosts of the podcast series "Get Out There": a fun, inspiring, and informative series designed to motivate listeners to reach for their most audacious dreams. Flavorlab worked with the couple on all things audio for the podcast, recording and mixing each episode live in the studio as well as composing the original theme music and intro audio reel. We sat down with Joan and Rudy to reflect on the ongoing project and its impact.
What inspired you to create this podcast series?
Joan: We're voice people. We're voice actors, voice teachers, voice producers, and innovators in the field of voice acting. I even wrote a book called Secrets of Voice-over Success. It was originally published in 2005, followed by a revised edition in 2008. It's still the most popular book on the topic, because it features 21 top voice talents who each contributed their personal career journeys. We created the Society of Voice Arts and Sciences, a nonprofit organization, because we believe in the power of the human voice. The voice is an amazing, indispensable part of entertainment, marketing, teaching and new technologies. It's also a force for activism and doing good in the world.
Rudy: More specifically, the inspiration for the podcast came from a monthly voiceover column that Joan and I have been co-writing for Backstage magazine for several years. When we saw that Backstage online was starting to take an interest in podcasts, we knew instantly it was a far more organic way for us to connect with people. It suits our DNA. It feels like we were always headed here. The global popularity of the podcast medium inspired us. Immediacy of conversing live, and telling stories without filtering them through various drafts and editing. Plus, a podcast is sleek, sexy, and interactive and empowering.
There's so many podcasts out there at the moment; the medium is exploding. What makes "Get Out There" different from all the rest?
Joan: Podcasts tied to the personality and point of view of the hosts. It's a lot like radio jocks, where part of the reason you tune in has something to do with enjoying the personality behind the playlist. But, like Rudy said, the podcast is a whole new thing. It's very different from radio.
What makes our podcast different from the others is the force of our personalities, our unique interest in people, our point of view as a couple, and the love we have for seeing others succeed. We cover many topics besides voice acting so it's not a voiceover podcast. If I had to categorize it, I'd call it the "giving away success" category.
Rudy: We try to look at the world through the eyes of people who want to fulfill their life dreams and ambitions, then bring them guests who have done it and know how to share their process. Not everyone has access to the tools, mentors, and inspired examples that make dreams real. Dreams are often entrepreneurial on the executional side. They are also deeply personal and emotional, involving the people we love most in our lives. This shit is real. We focus in a very specific way to get to the heart of a very broad topic.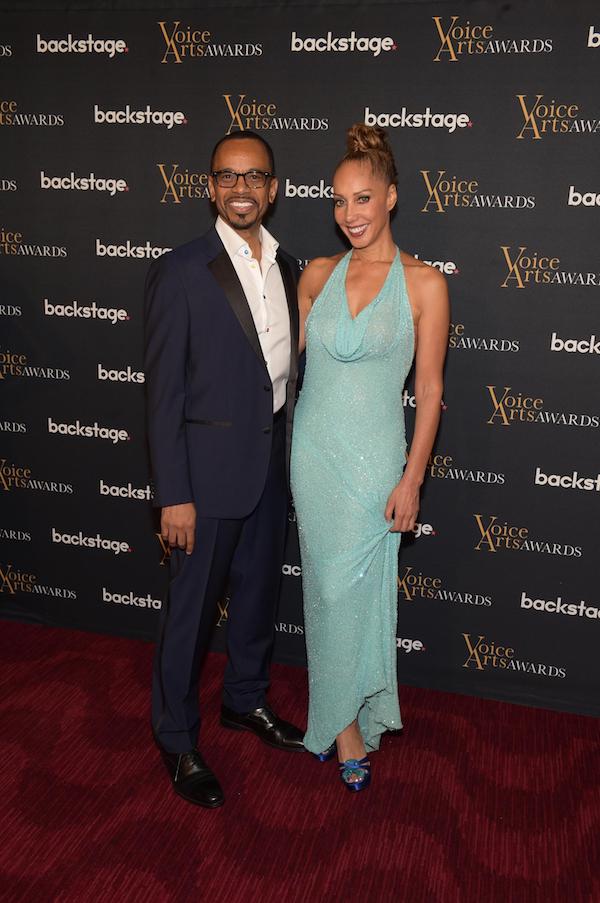 The themes underlying the series revolve around being proactive, confident, and innovative. How have these traits helped you in your professional lives? Any stories come to mind?
Joan: Those are definitely critical themes. I would add spiritual wellbeing, social awareness, and social networking. The social piece includes both online and face to face. Creating something for people requires caring about their aspirations. Being with people, face to face, remains a huge pillar of our existence as human beings and, like anything else, it requires an effort to become good at it.
Rudy: The biggest things we've done in our lives have always required the creativity and commitment of other people and the inclusion of fulfilling their dreams as we fulfill our own. Someone has to spearhead the effort on some level but the overall connections are reciprocal.
In the first episode, you briefly discuss the idea of not being afraid of rejection in the pursuit of your dreams. What advice would you give someone whose confidence is shaken after facing serious roadblocks?
Joan: Well, you picked a very sensitive topic. Charlie Chaplin once said, "Actors search for rejection. If they don't get it they reject themselves."
Rudy: And Marilyn Monroe said, "Sometimes I feel my whole life has been one big rejection."
Joan: We think about the issue of rejection quite a lot, because we train voice actors and provide career guidance. Emotional triggers, like rejection, stop a lot of people, especially when you're in a field where you are the actual product. It's not like a car dealer who can blame the car as the problem. In acting, you are the car and the car dealer. It's very personal. The point of these two quotes is that rejection is not something that's being done to you by other people. You put it on yourself. Then you convince yourself others do it to you.
Rudy: In many ways rejection is a myth. Imagine yourself selecting an outfit from Armani's flagship 5th Avenue store in New York. It's Armani, so there's nothing to reject in terms of impeccable quality, etc. However, if you need formal wear, then you won't pick from the sports collection. If your budget caps at $2000, then you steer clear of the upper floor. Like the director of a movie, you simply narrow down your selection to specific criteria that meet your creative vision and resources.
In the Armani situation, neither the sportswear nor the upper room were rejected. They simply were not selected. Unfortunately, the glaring simplicity of this insight is disturbing to a lot of people. Charlie is right. People want to claim rejection. It's as if it becomes a badge of honor for putting themselves through the grueling process of pitching their abilities. Casting actors or voice actors is a selection process, not a rejection process.
When recording the show, you often speak live with guests who are across the country and unable to talk face-to-face. Has this dynamic been a challenge and if so, how have you overcome it?
Joan: I love being with people and talking face to face. There's so much more social texture when you interact person to person. Eye contact and body language become a huge part of the experience and that changes the dynamics of the experience. Consider that people can laugh and express other emotions with their faces, and without making a sound. A lot of communication takes place silently, through body language.
Even though the listener can't see nonverbal interaction, they hear and feel the resulting difference between people interacting in the same space versus via phone or some other tech. When you're actually with a person, you're immersed in the energy of proximity.
Rudy: To Joan's point, if you're listening to a podcast, you get to experience that additional sensorial aspect of people who are actually interacting. So far, Joan and I are always in the studio together so the listener is never totally missing out on some of that juice. At the same time, we live in an age where adapting to technology has become a more natural way of moving through life and getting things done. And, as a society, we're all getting better at that. When we can't be in the room with our guests, other senses become more heightened. We learn to naturally draw out what's needed for a full experience by doing. It's fun both ways.
What is the ultimate message that you want listeners to walk away with after checking out the podcast?
Joan: I want people to walk away with access to the best part of themselves – the part that propels you to be your best self, without comparing yourself to others or having to outdo someone else. I want people to feel empowered to bring their personal best to using all the tools that will allow them to fulfill their most audacious dreams.
Rudy: What she said.
What is the most rewarding part of the project thus far?
Rudy: People with something meaningful to say, get to say it. People who need inspiration, information and mentoring are able to get it. It's been rewarding to see how quickly the podcast medium can take off and spread through the airwaves. We get listener feedback. Number of downloads report immediate indicators in real time. Launching the podcast was like lighting a fuse, only to suddenly realize that it's burning down faster than you expected.
Fortunately, at the end of this fuse is an explosion of creative content that people can use to empower their lives. And, of course, I couldn't be happier than to be creating this project with my wife, Joan. That's a kind of reward that don't think I could ever fully describe.
Joan: Well, I definitely agree with Rudy on that one. I feel rewarded by the learning and the give and take we have with the guests. These are substantial people and people we admire. We learn a ton of stuff from researching people's lives and then having a heart to heart conversation with them.
And because it's not video, you're free from a lot of the pressure to perform and therefore able to focus more fully on being with each other in a committed conversation. The reward is that we get the exact same benefits that our listeners get from hearing from remarkable people. Then there's what we give to our guests, by way of featuring their accomplishments, good deeds and projects, and giving them a platform to give back.
Join our mailing list!