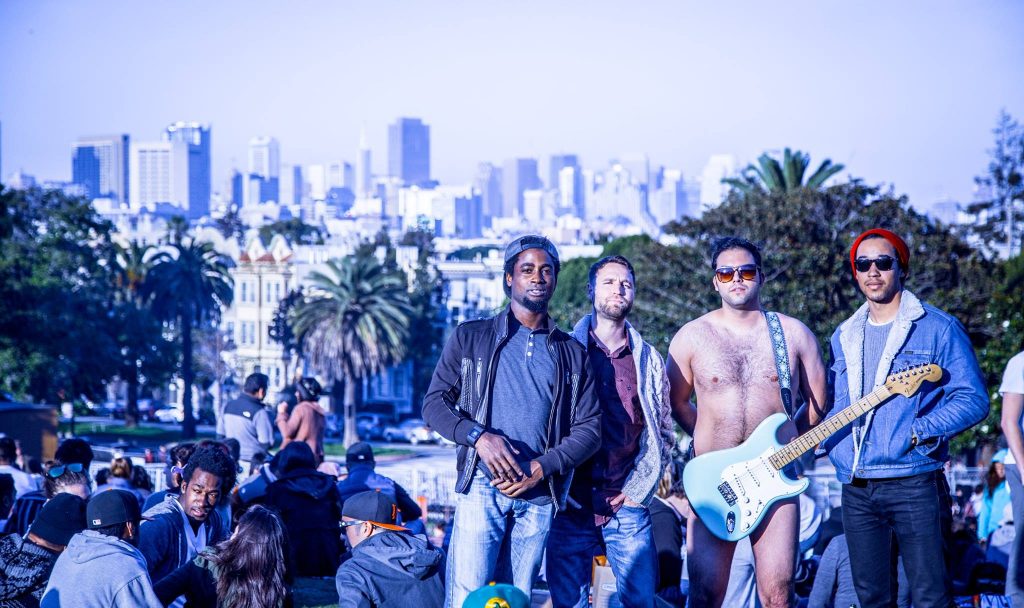 After moving from Philadelphia to the Bay Area in 2012, Frankie Fusco created a unique blend of rock, funk and jazz to become what is now Vinyl Spectrum. Originating in San Francisco, Vinyl Spectrum, led by Frank Fusco on guitar and vocals, bassist Chris Locs, saxophonist Dario Slavazza and drummer Lance Harrington, is a band that has grown to be nationally recognized and featured on not only top networks such as NBC and Esquire, but also a number of commercials and feature films. Most recently their fun and buoyant track P.S. 118 was placed through Flavorlab Records on this Juicy Couture, featuring Behati Prinslo
The band has taken their diverse sound and shared it with the country, traveling and touring throughout the West Coast and making numerous festival appearances back East. The apparent influence of Avant Garde styles on Vinyl Spectrum makes for an out of the box and genre bending sound that can capture the ear of any audience.
Their debut album Cosmic Desire is described as being inspired by the mystiques of love and intuition while simultaneously capturing the struggles of everyday life. But it doesn't stop there, their latest single, titled Plush Interior is unlike any other. Featuring San Francisco's own rapper and poet, Watsky, the track seamlessly combines an edgy vibe and upbeat tempo with electrically charged instrumentals. We are told to "be prepared to have legit health insurance because faces will be melted and minds will be blown." Simply put, this track is full of energy and can't be missed. Check it out, along with the rest of Vinyl Spectrum's funky tracks on Flavorlab Records! We can't wait to see what else Vinyl Spectrum has in store for us and follow them below!