Flavorlab mixed the series, composed the main theme and contributed music from its handcrafted catalog
New York, NY – March 16th, 2015 – The current season of MTV2's hit show "Guy Code" features work from all three divisions of the NYC company Flavorlab. Efforts in mixing, composition and music placement were clicking on all cylinders, enhancing the real-life stories and situations depicted in the show.
Guy Code Men Lightenmen Sound engineer Brian Quill's creative mark is evident not only in the main theme song, which features his vocals and pays homage to chanting monks, but also in the mix. "The sound choices and timing of the sounds play off the graphics as well as the content of what the comedians are saying," explains Quill, "We always try to focus on matching the graphics, but sometimes we do go outside the lines a bit."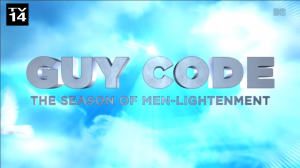 He also comments on the collaborative workflow established with creator and executive producer, Ryan Ling: "As a mix and sound design team we try to take risks and push the limits, and we really rely on him and the other producers to let us know where those limits are. Comedy is a delicat
e art. It's a balance of content and timing that is always a fun challenge."
Hip-Hop and Electronic Dance Music (EDM) tracks were curated by the music supervision team from Flavorlab Producer's Toolbox, seeking the best sonic fit for a client's storytelling needs. Through a simple, intuitive platform, editors and producers are also free to search a variety of high-quality tracks to enhance their stories.
The works of Flavorlab Score, Flavorlab Sound and Flavorlab Producer's Toolbox have been featured in all 5 seasons of "Guy Code", which airs on Wednesdays at 11 PM EST / 10 PM CST on MTV2. About: Flavorlab is a full-service audio company in New York City. FInd out more at flavorlab.com and producerstoolbox.com.