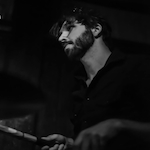 Jarrod Pedone
This month we shine the spotlight on a new member of our community: Jarrod Pedone. Jarrod is a Staten Island based composer who studied film scoring at the Berklee School of Music. He wears many musical hats as he is a composer, recording and mix engineer, a touring and session musician, and a staff percussion/music theory instructor at the Napoli School of Music and Dance.

Jarrod started as a young punk drummer, and it led him to create music for successful film & TV. After a decade of nonstop musical experience, the drive to make the next project better than the last project is the fuel that keeps him moving. Whether it is music to be performed at a rock club or a track to be synced for a Super Bowl ad, Jarrod emphasizes attention to detail while remaining creative. Currently, he works as an engineer at mSOUND Studio.

We are excited that Jarrod has joined our group of multi-talented composers as he brings an eclectic mix of music to the the Producer's Toolbox. Please check out some of his work and listen to his tracks! The video below, "The Pixel Painter,"  is a film for which Jarrod composed, performed, recorded, and mixed the music.
Find out more about Jarrod Pedone on his official website, or LISTEN to some of his Producer's Toolbox tracks!